Welcome to Las Olas

Step inside the lovely Las Olas Boulevard, a premier shopping and dining destination which promotes a live, work and play environment. Created 55 years ago, this refined open-air untraditional shopping center and residential community was built to construct a better boulevard where business owners can work together and support one another. Spanning from downtown Fort Lauderdale to the beach on A1A, Las Olas Boulevard offers a copious array of eclectic restaurants, boutiques, salons and commercial businesses. The idyllic place to spend a romantic evening or lazy family friendly afternoon, this refined boulevard is the most sought-after spot to enjoy cultural sites, chic shops and creative sips.
But what ultimately makes this neighborhood so desirable from the rest, is its expansive real estate market that bisects its commercial boulevard. A picturesque town to settle down and raise a family or invest in a beachside vacation haven, there are a surplus of options, many of which are situated between the Middle River and Intracoastal Waterway. A series of tranquil canals, reminiscent to Venice and Amsterdam, are intertwined throughout the area, presenting a capacious degrees of waterfront estates and spacious single-family homes in addition to residential condominiums that feature luxurious amenities. Some of the most prestigious towers that are changing the community's already blossoming skyline include WatergardenCondo, Las Olas By The River, Las Olas Grand, 100 Las Olas and Las Olas Beach Club.
Las Olas Isles, fanning out alongside both sides of East Las Olas Boulevard, from the Intracoastal to its western canal, is Fort Lauderdale's leading waterfront residential neighborhood. Separating the historic street's commercial and residential districts, beginning at South Gordon Road, Las Olas Isles unites the exclusive communities of Seven Isles (comprising of six isles plus the isle that Las Olas Boulevard is situated on) and Idlewyld. Partly gated, though not private, Las Olas Isles is pedestrian friendly with minimal non-resident traffic due to the neighborhood's architectural layout, featuring dead-end streets. Most of the homes reflect an exterior style from the 1920s with new construction interiors allowing for spacious living areas. Smaller outdoor rooms are prominent throughout the area. However, deep water canals and non-fixed bridges with direct access to open water make up for a lack of space with private dockage for avid boaters. Architecture enthusiasts, although scarce, can still find an original, pre-war Francis Abreu mansion located in Las Olas Isles. Furthermore, there are several mid-rise condominiums that are interspersed on finger streets, concentrated on Hendricks Isle. Residents of Las Olas Isles can also enjoy proximity to a marina, two yacht clubs and Coral Ridge Country Club. Both the beach and its commercial areas are positioned in close walking distance to the east with Las Olas Boulevard's famed restaurants and boutiques in equal range to the west. A family-friendly community, with elite public and private schools in addition to Nova South Eastern University, potential property owners can discover an abundance of child-appropriate attractions, expansive green parks and hospitals. Fort Lauderdale International Airport and Port Everglades are located nearby with neighboring communities such as Aventura, Sunny Isles and Bal Harbour to the south and Boca Raton and Palm Beach to the north.
Burgeoning Dining Destination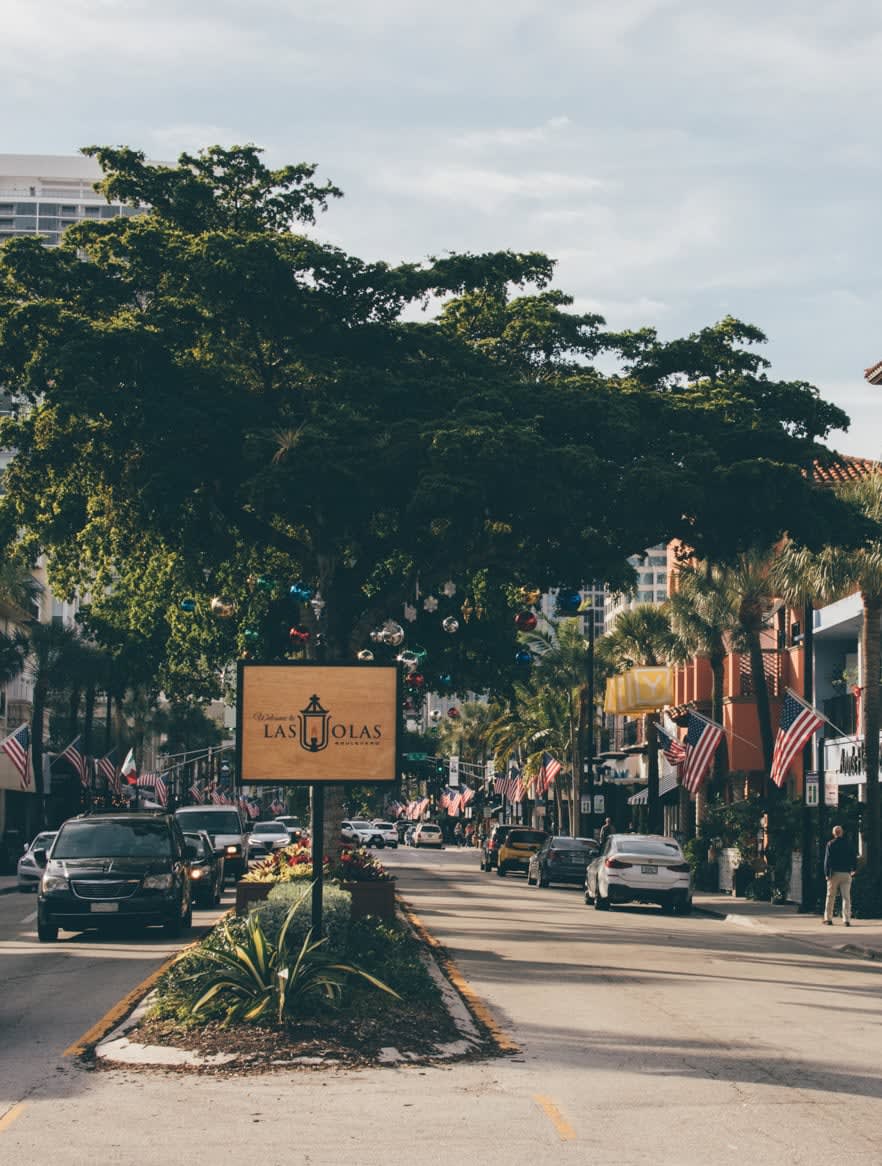 Las Olas Boulevard presents natives and tourists with a vast trove of new-concept restaurants that continue to multiply throughout the neighborhood. Attracting international star chefs and local culinary savants, Las Olas Boulevard is the most esteemed address to tempt taste buds on decadent one-of-a-kind dishes hailing from around the world. Between fine dining stomping grounds and breakfast cafes, there is something for everyone to triple taste and enjoy. For those who like to start their day early, there are a plethora of brunch spots that host spectacular dining experiences. American Social Bar and Restaurant, B Square Burgers & Booze, Big City Tavern Restaurant & Bar, Bo's Pub Las Olas Sports Bar, Boathouse at Riverside, Casa Sensei Pan Asian Latin Fusion, Golden Lyon Vintage Pub at Riverside, Louie Boss's Ristorante, Bar & Pizzeria, Piazzaa Italia Fort Lauderdale, Royal Pig Pub, The Balcony Las Olas in Fort Lauderdale and The Floridian Restaurant are amongst the top breakfast outposts that expand brunch to new borders.
And for fine dining outings and celebratory occasions, look no further than Lobster Bar Sea Grille. Helmed by Pano Karatassos, this upscale restaurant has dazzled eaters all over the eastern seaboard with 12 award-winning destinations, each with their own stunningly beautiful flair and tantalizing menu items. Today, a dynasty with an in-home cookbook, residents can swoon over Karatassos's specialty, Mediterranean Octopus Char-Grilled, or his favorite, The Angry Lobster. ETARU Las Olas, a contemporary Robatayaki cuisine, is the neighborhood's go-to Japanese restaurant, set on the backdrop of an indoor-outdoor vibrant setting. Designed by Miami Beach's Urban Robot Associates, this architecturally savvy outpost is not only pleasing to the mouth but to the eye as well with an impressive natural modernism style, outfitted with necessary pops of color. Those with an expansive palette can indulge in the Chef's Tasting Menu or one of their signature dishes such as Kampachi sashimi topped with yuzu truffle dressing, mizuna and pickled vegetables.
Dynamic Storefronts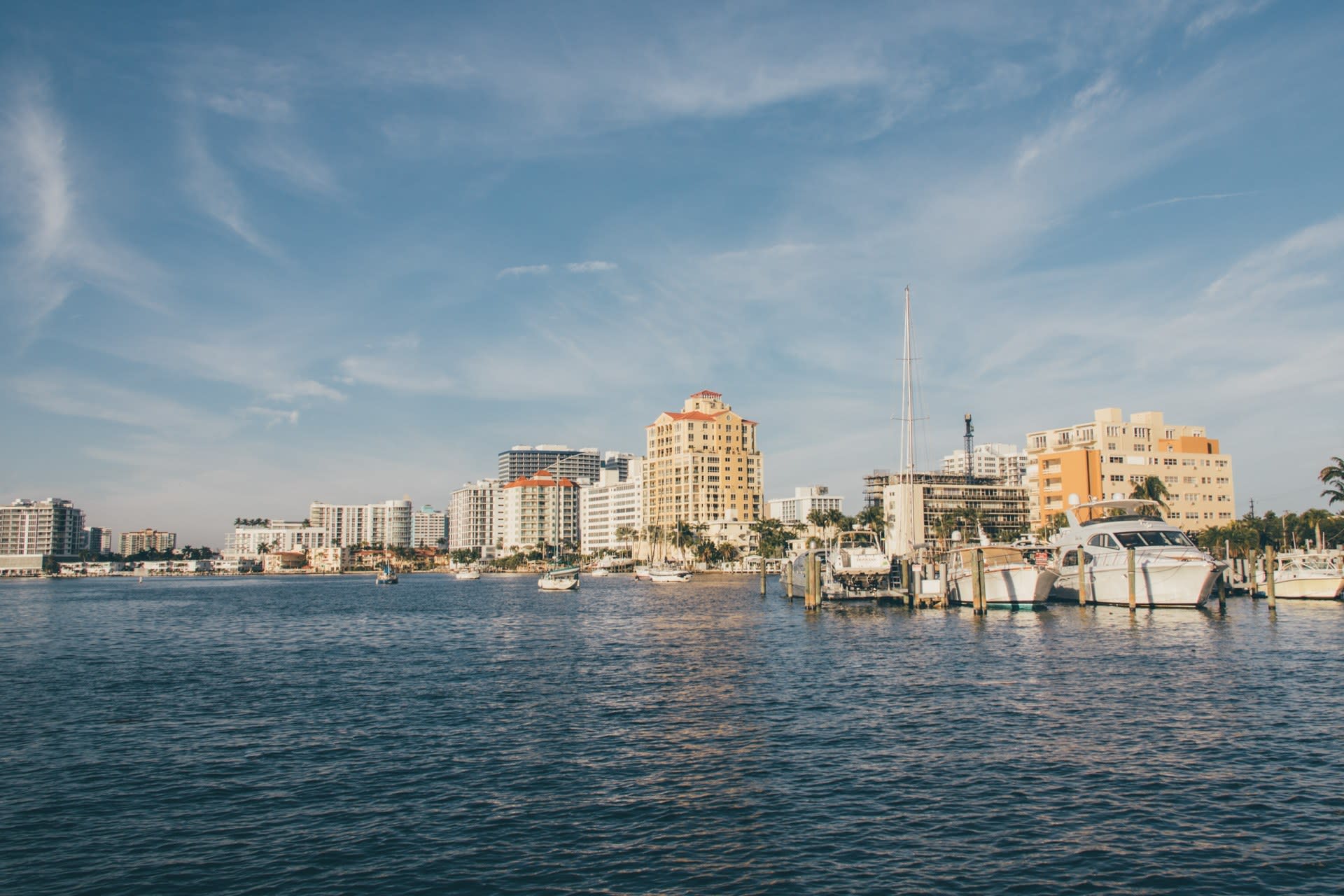 A broad range of locally curated and high-end retail storefronts span Los Olas Boulevard. Innovative art galleries offer internationally acclaimed works such as Art Connection Los Olas, Bellagio International Gallery, King's Décor & Fine Art, Nationally Geographic Fine Art Gallery and Sienna Fine Art. Incorporating women's apparel stores with fine jewelry and book stores, shoppers can find everything they need from LF Stores and Lilly Pulitzer to Grand Central Stationary and ALEX AND ANI. There are a profusion of hair salons and barbershops straddling the boulevard including Echo Salon at Los Olas, FG Salon and Spa, Los Olas Barber Shop, Sarracino Salon and Tiffany Beauty Spa. And for those who enjoy Cuban cigars, look no further than Havana Republic Cigar Depot and Macabi Havana Lounge.