Welcome to Lauderdale By The Sea
Located in Broward County, Lauderdale-by-the-Sea is a small beach town encompassing just over 1.5 square-miles. Bordered on the south between Fort Lauderdale and the Village of Sea Ranch Lakes and bounded on the north by Pompano Beach, this long barrier island is conveniently situated amid some of South Florida's most engaging neighborhoods. Separated from the mainland by the Intracoastal Waterway, accessible via one drawbridge located on Commercial Boulevard, Lauderdale-by-the-Sea speaks to the ultimate flip-flop way of life with approximately one-half dozen blocks paralleling the Atlantic Ocean.
Alluring to local and international buyers, this charming seaside village represents one of the most scenic areas in Florida where homeowners can invest in a property that sits directly on the ocean. And with some buildings that are no more than four feet tall, potential property owners can discover a vast trove of mid-century modern architecture, preserving the area's historic roots. However, some of the most prestigious real estate options are in gated communities and oceanfront condominiums including the private neighborhoods of Bel Air and Terra Mar Island and the residential buildings of Aquazul Lauderdale by the Sea, Europa by the Sea and Villas by the Sea.
Sub-Tropical Lifestyle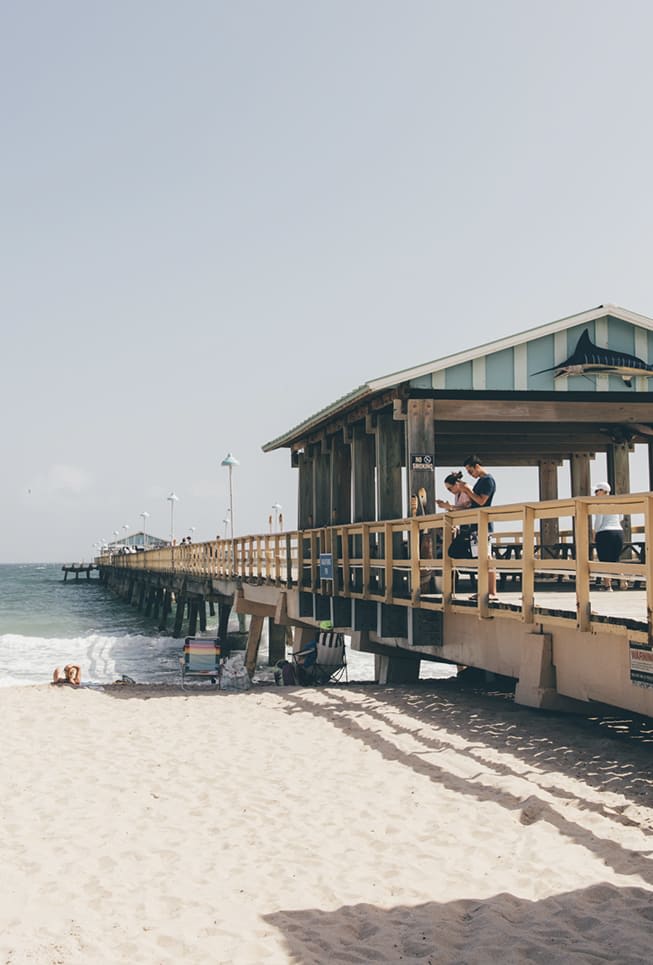 Home to approximately 6,000 residents, Lauderdale-by-the-Sea is the epitome of the sub-tropical lifestyle, with the beach in equal radius from every townhome, condominium and single-family property on the island. Anglin's Fishing Pier, originally opened in 1963 and named after the town's first mayor, Melvin I. Anglin, is the pro angler's dream offering two types of fishing including sand and reef "rock" fishing. Most frequently types of fish caught off the pier comprise of Mangrove Snapper, Snook, Pompano, Bluefish, Mackerel, Tarpon, Cobia, Grunts, Bonita, small Kingfish and Big Jacks in addition to live baits such as Shrimp, Mullet, Croakers and Mojarras. Anglin's Square, the town's district, presents plenty to do with locally curated boutiques, outdoor cafes and ice cream parlors like Kilwin's Ice Cream, The Cookie Shop and 4D Gelateria. Popular restaurants that lend for idyllic family-friendly experiences comprise of 101 Ocean, Del Frisco's Grille – Fort Lauderdale, Vincent's Italian Kitchen, BurgerFi, La Cucina Café & Italian Market, Anthony's Coal Fired Pizza, El Mar Café and Benihana. An outdoor wonderland with four plazas lined with Adirondack chairs, boat benches and bike racks shaped like fish, Anglin's Square is the perfect spot to lounge in the everlasting summer sun and explore the coral reef themed artworks which dress the walls (in addition to an 18-foot coral reef sculpture greeting visitors in town).
And while this Old Florida town has been enhanced with new contemporary restaurants and storefronts, residents and visitors can still discover historic landmarks such as the SS Copenhagen, a 19th-century British steamship that's listed on the National Register of Historic Places and is deemed a Florida archaeological underwater preserve. Shipwrecked after hitting a reef in May 1900, scuba divers can explore this nautical underwater ship themselves with scuba diving opportunities offered throughout the year. Known as Florida's Beach Diving Capital, Lauderdale-by-the-Sea is sought after by divers across the region with a reef located just 100 yards off the beach that spans the length of the town. This coastal sanctuary is also home to the annual BugFest-By-The-Sea festival, celebrating Florida's Lobster Mini-Season.
Lauderdale-by-the-Sea is located approximately 30 minutes from Fort Lauderdale International Airport. Top-ranked public and private schools are nearby.